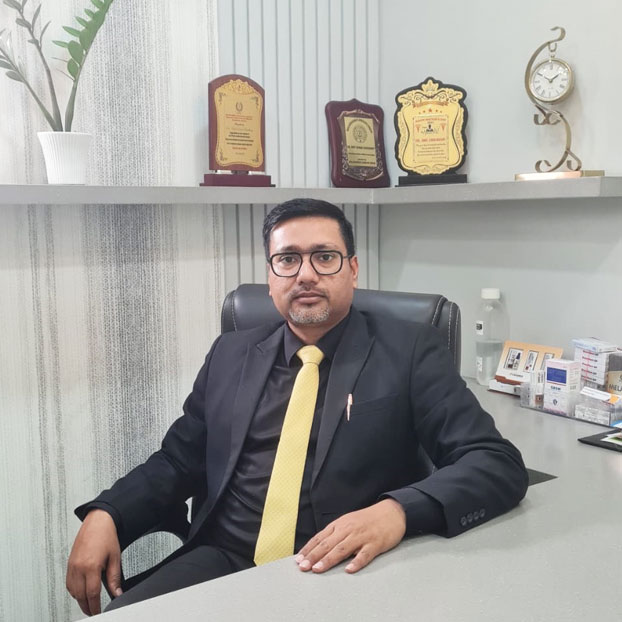 Dr. Amit Kr. Choudhary
MBBS, MS, M.Ch Plastic Surgery
Board Certified Plastic Surgeon
REG. No - MCI/11-39356
Speciality:

Cosmetic Surgery, Trauma Surgery, Reconstructive Surgery, Burn Surgery, Hand Surgery

Length of Work:

Since 2015

Phone:

+91 82500 12891

E-mail:

akchoudhary2005@gmail.com
Work Experience
Neotia Getwel Healthcare Siliguri (2015 - 2017)

Department Of Plastic Surgery, RIMS, Imphal (2017-2020)

Paramount Hospital, Siliguri (Continuing)

Dr. Amit's Aesthetics (Continuing)
"No matter where you're from, your dreams are valid."
Dr. Amit Kr. Choudhary is a board certified plastic surgeon in India with 6 years of experience to back his expertise in the domain of aesthetic surgeries.
Dr. Amit Kr Choudhary MBBS, MS, MCH, is a cosmetic surgeon who is one of the most sought after aesthetic surgery practitioners in Siliguri, Darjeeling. His skill and passion for cosmetic and aesthetic surgery draw patients from across India AND nearby countries.
After completing Masters in general surgery from medical college kolkata he went on to take an M.Ch in Plastic Surgery from Regional institute of medical sciences, Imphal, Manipur, India and subsequently, put hisself through advanced training in the different aspects of cosmetic surgery. In fact, most of Dr. amit's patients come to him to benefit from this training he has undergone in cosmetic surgery, especially procedures such as Liposuction, Facelifts, Necklifts, Body Contouring, Waist Sculpting and Six-Packs, Tummy Tucks, Breast Augmentation, Breast Lift, Breast Reduction, Breast Reconstruction, Rhinoplasty (Nose Jobs) and more.
Dr. Amit strives to offer the best remedies and cosmetic procedures outfitted with the latest technology to the aspirants in India and across the globe.
He worked with many of the cosmetic and plastic surgeon across the country.Dr. amit is familiar with the international standards of reconstructive surgeries to the core and adheres to them with precision.
His clientele list includes whose who of bengali Film Industry, top government officials as well as International patients who visit from nearby countries like Nepal, Bhutan Bangladesh to Siliguri for his artistic skills and craftsmanship.
Connect With Doctor