The Head and face are the most prominent features of our body. Our whole appearance is highly dependent on these two parts. But with age, these features start to wear off and your overall appearance gets deeply impacted. Therefore cosmetic procedures on the head and face are very common and highly demanded.
In our long illustrious career, we have seen many patients who were in utter despair regarding their condition but were completely cured under our expert supervision and monitoring. Their physical also took a drastic turn after availing our services.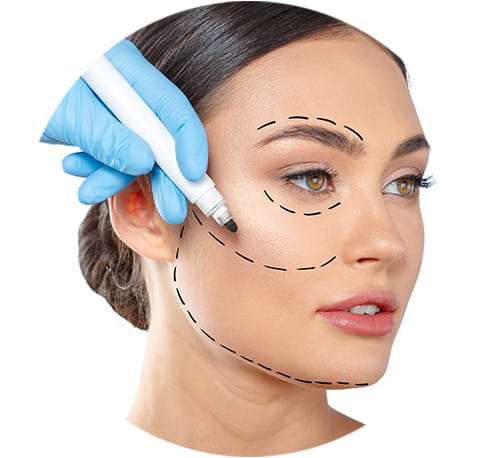 Why people undergo head and face surgery?
These are some of the valid reasons for which people undergo head and face surgery.
• To eliminate all the fine lines
• To prevent the skin from sagging
• To lose excess fat and skin to get a more youthful look
• To cover the bald portions of the head
Interested in Discussing? Click Here
I do not try to change the body that God gave you but restore youthfulness that has been lost.

Dr. Amit Kr. Choudhary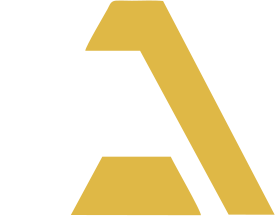 The procedures that are covered to uplift the condition of the head and facial features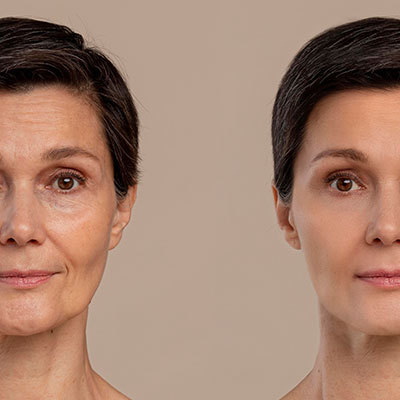 Facelift
Facelift or in medical terms rhytidectomy is a cosmetic procedure that is mainly done to provide a patient with a youthful appearance. We usually remove the excess amount of facial skin and then starts redraping the skin on the patient's face and neck. After the procedure, the patient again regains smooth skin with or without tightening the underlying tissues.
Elimination of all fine lines and wrinkles
Smooth and silky skin
Makes you look bright and younger
A sharp detailing in the face
Fill you with confidence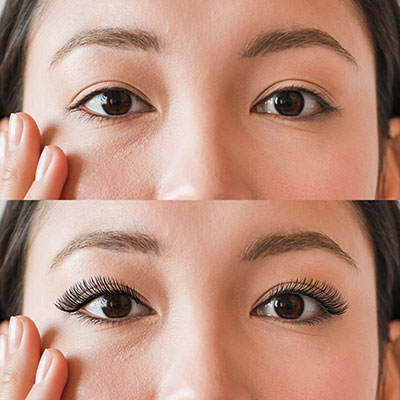 Asian Eyelid Blepharoplasty
This cosmetic procedure is very demandable among Asian people who desire a definite upper eyelid crease. In this process, the skin of the eyelid is incised and the tissue beneath is excised if required. After the overall procedure, the patient can expect a wonderful pair of eyelids similar to the Caucasians.
A new definition in the eyes
Overall upliftment in the facial expressions
A renewed confidence in the face
Relief from the excess tissues on the eyelids
A complete makeover on the appearance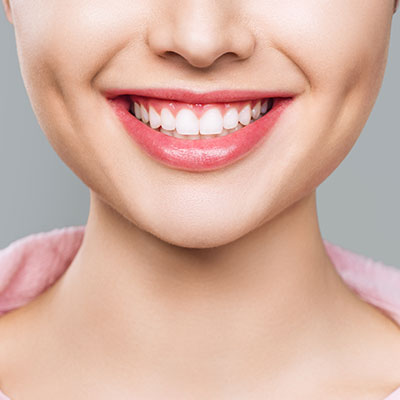 Dimpleplasty
From the name only it can be well-identified that this procedure is used to create dimples on the cheeks. Dimple has always been considered as a very adoring facial feature in many cultures and therefore this procedure is highly demandable among youth as they always want attention from the opposite gender.
Quick procedure times
Brief recovery periods
Immediately visible results
Self-confidence boosting results
A more sculpted, contoured look in the facial area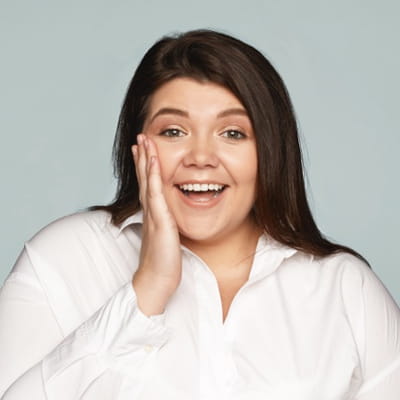 Buccal Fat Pad Removal
Buccal Fat Pad Removal or in common terms cheek fat removal is a surgical procedure where an excess amount of fat is removed from the cheeks. Patients mainly go for this procedure to get rid of their chubby cheeks problem and get a more contoured facial appearance.
Perfect and sharp jawline
Proportionate facial fat
Re-established high self-confidence
Chiseled facial structure
Relief from the baby face tag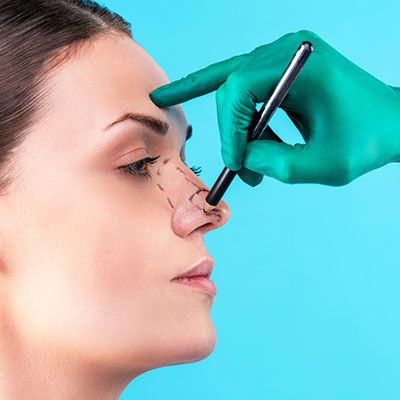 Rhinoplasty
Rhinoplasty is a surgical process that is used to change the shape of the nose. Our nose plays a distinct role in uplifting our facial characteristics. So there is a high demand for this procedure as a higher percentage of people are not happy with their nose alignment.
Pointed and aligned nose
Elimination of breathing and other functional issues
Relief from unnecessary anxiety
Rise in self-confidence
Balance in facial harmony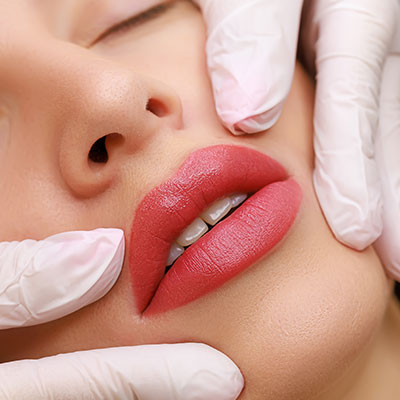 Lip Augmentation and Reduction
Lip augmentation is a cosmetic surgical process that gives patients fuller and plumper lips. It is mainly popular among female patients as they are always in search to enhance their facial features. In this procedure injectable dermal filler is used to give the lips a radiant look.
Perfect lips according to the body
Relief from the dullness of the lips
Beautiful appearance in the face
Positive impact on self-esteem
Full restoration of your damaged lips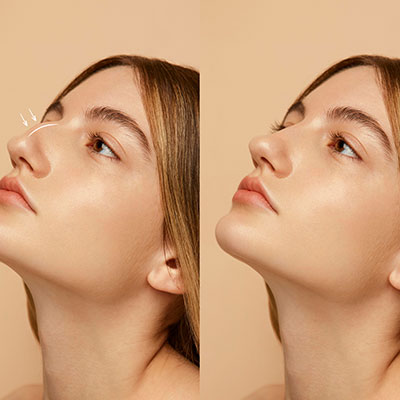 Chin Augmentation
Chin augmentation is primarily carried out to improve the bone contour of the chin. This procedure is carried by fitting an implant directly on the bone of the chin. This is mainly carried out to improve the appearance of the under the projected chin.
Perfectly aligned strong chin
More addition in the sharpness of the facial features
More attractive look
Relief from double chin
More aesthetic appeal to the overall look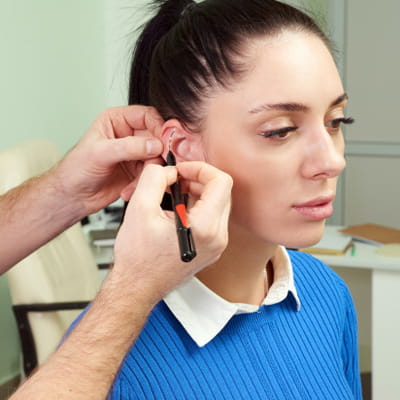 Ear Reconstruction
Ear reconstruction is one the most challenging operation to perform due to the complex shape that must be created for the ear to look natural. It is a surgical way of fixing ear damage that has been caused by either bad trauma or congenital disorder (present at birth).
Get relief from the disproportionate ear size
Get the self confidence back
More balanced look
Perfectly shaped ear lobes
Improved hearing than before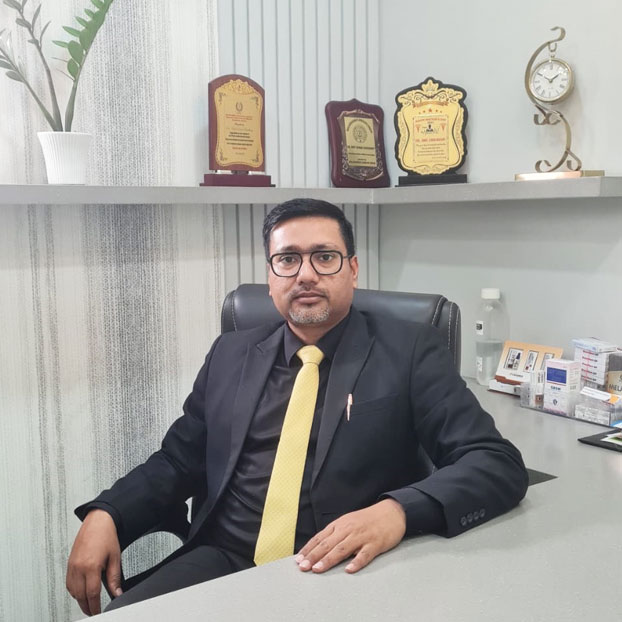 Dr. Amit Kr. Choudhary
MBBS, MS, M.Ch, Board Certified Plastic Surgeon
REG. No - MCI/11-39356
What are the capabilities and limitations of head and face surgery?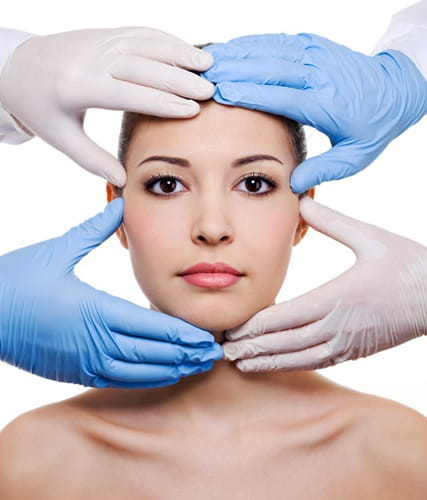 Capabilities
• Can give you a brighter and younger look
• Can adjust some volume in your head and face
• Can tighten the inner muscular structure
• Can eliminate the excess amount of skin or fat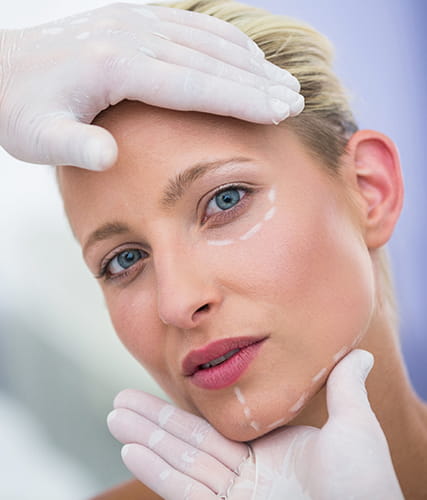 Limitations
• Cannot entirely make you look like another person
• Can affect the natural shape of your face
• Possibility of scars after treatment
Frequently Asked Questions
Cosmetic surgery is mainly done to reshape the normal structures of the body. On the other hand reconstructive surgery is done to cure the abnormal structures of the body formed due to congenital diseases.
No, a cosmetic surgeon tries his level best to leave minimal visible scar as possible which can be later healed with time.
According to specialists, the minimum age to go for nose reshaping should be at 16 but the most common age group that undergo this procedure belongs to 20 to 40 years.
Client Testimonials
Dr. Amit procedures are nothing short of a magic that gives people their dream body shape. Thank you for helping me getting my confidence back.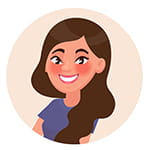 Deciding to go for plastic surgery to treat my scars was the best decision of my life. Thank you Dr. Amit for this wonderful gift.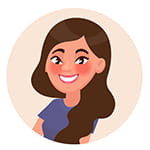 Wridhhita Chatterjee
Siliguri
I had scars and marks on my hand after an unfortunate accident. But now all are gone after getting treated by Dr. Amit kr Choudhury. I am very thankful to him.